My favorite character is Mr. Bates.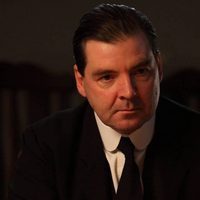 (An older Eric Bana, no?)
 Or my favorite character might be Lady Grantham.
Loved her since She's Having  a Baby.  (Not that I was alive then or anything.)
Or, my favorite character just might be Gwen.  So plucky.
Or it might be Sybil, who's just a prettier/richer version of Gwen.  (No offense, Gwen.)
But my favorite character just might be–very well could be–the Dowager Countess of Grantham.
"What's a weekend?"
As with all things en vogue, I am late coming to this party.  I am only on Episode 4 from Season One, which I know is shameful.  But still…please don't tell me what happens.  Unless it's something bad to Thomas.
I hate Thomas.
My husband and kids always complain that I never relax and watch tv with them.  So last night I fired up the 'ol boob-tube and sunk into the sectional, inviting them to join me.  The kids agreed enthusiastically, especially since it was already well past bedtime. Derrick sat nearby at the computer, listening with one ear for what was coming on.  Tranquility reigned until the kids heard the musical score and watched the opening credits.  Without so much as a kiss good night, they got up and went to bed.  Derrick remained until hearing the first "That will be all, Carson," in Lord Grantham's beautiful British clip.  He turned from the computer, took one look at the tv screen, and said (and I'm not making this up), "You've driven me away."  He, too, got up and went to bed.  I yelled at him to shut the door on his way out.
And so it happened that for two glorious hours last night, I was left all alone with My Other Family.  They really are a lahvely set, are they not?
Who's your favorite?